What Do We See? Where Do We Go?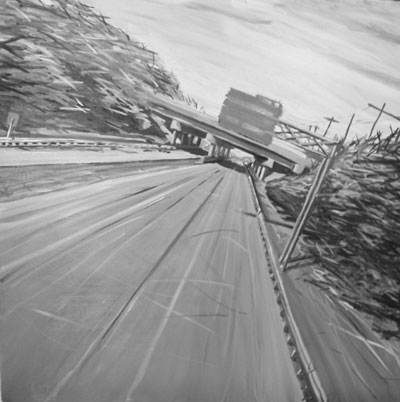 Imaginary Road
oil on canvas
48" x 48"
This project examines the mental state induced by highway travel. While driving is a dangerous task, engineering (of road systems, and vehicles) has simplified the task to the point of allowing us to function as drivers without 100% of our attention. In a world where technology and television have altered the necessity, or our ability, to focus for sustained periods of time, driving is another task we are able to do with varying levels of concentration. Looking at the way information comes into, and fades out of focus at high speeds in the homogenized landscape, I credit the experience with leading to daydreaming, or a trance-like state while driving. I use this as explanation for the way we are able to block things out, or miss elements entirely.
A study of cognitive mapping provides some information about how we process the visual information available to us in the landscape. Psychogeography, the study of how geographical environments affect emotions and behavior, also offers some insight. Understanding the ways we interpret and process spaces largely impacted by global capitalism is at the core of my analysis.
While safety is a primary concern in engineering, and engineering contributes to much of the monotony in the constructed environment of the highways, I question whether these measures go so far as to allow for complacency while driving. Great measures have been taken to simply the task of driving and lessen the margin for error, but has it become too easy? Also the vehicles we travel in have become so comfortable, and include safety features for so many situations. Does this create a false sense of security?
Some may feel a rush from traveling at high speeds, while others just appreciate the anonymous isolation afforded to them while on the roads. It's as though we are addicted to the highs we feel through the inward mental focus and contemplative spaces we find while driving. Just as abstract expressionist paintings are an invitation to search inside ourselves, so is the abstract space we find ourselves in when we retreat to our minds while driving.
As technology and speed increase in the world, I can't help but to wonder how we will continue to change with it. How will this multi-layered type of focus be applied to other activities?
Resulting Visuals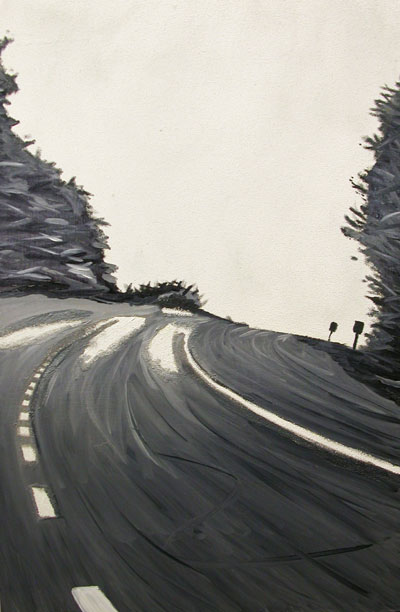 Dashed Lines
oil and reflective road paint on panel
36" x 24"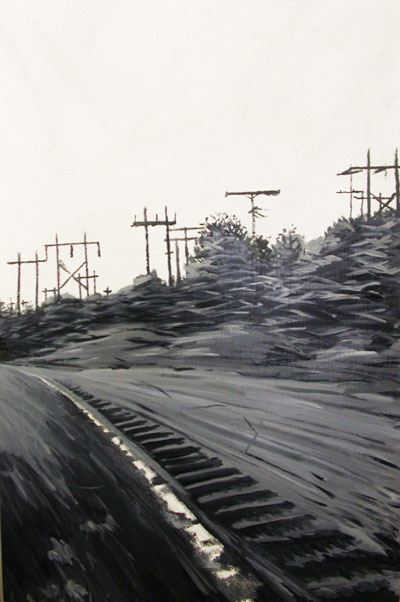 Power Lines
oil and reflective road paint on panel
36" x 24"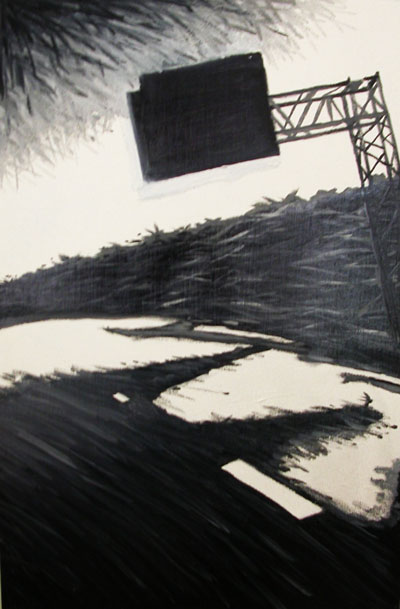 Sign
oil and reflective road paint on panel
36" x 24"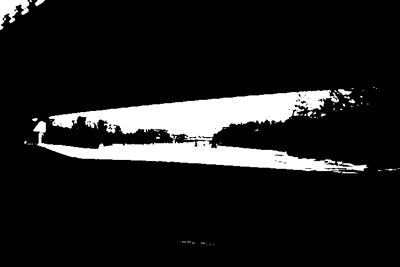 Still from Rt. 95 South
animation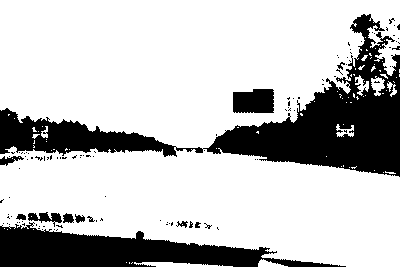 Still from Rt. 95 South
animation

Technology Garden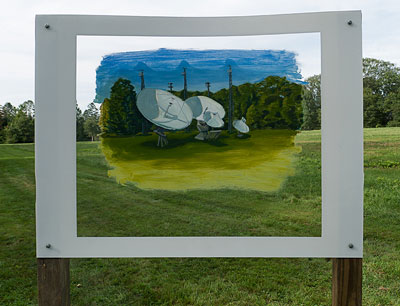 Technology Garden
oil on clear acrylic glas

The theme for the 2015 Outdoor Sculpture at Maudslay show at Maudslay State Park in Newburyport, MA, was 'Link.' This piece shows a group of data transmittors (cell towers and satellite dishes) clustered in the landscape as one might organize flowers in a garden.

Nature Persists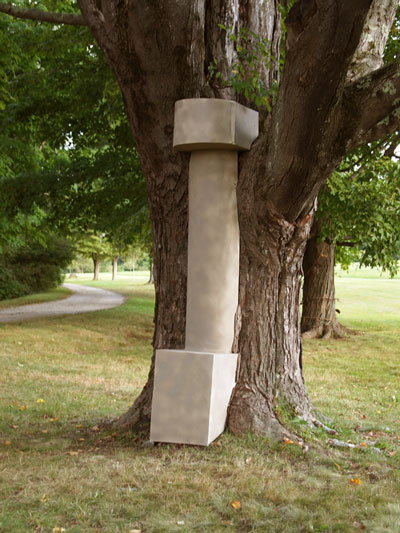 Nature Persists
wood, cardboard tube, paint, tree
7' tall
The theme for the 2013 Outdoor Sculpture at Maudslay show was 'Intertwined.' This sculpture depicts an abutment that remains long after the bridge it once supported is gone. The piece fits into a maple tree to appear as though over time the tree has grown around it and swallowed it, leaving the two intertwined.

Selling the Family Farm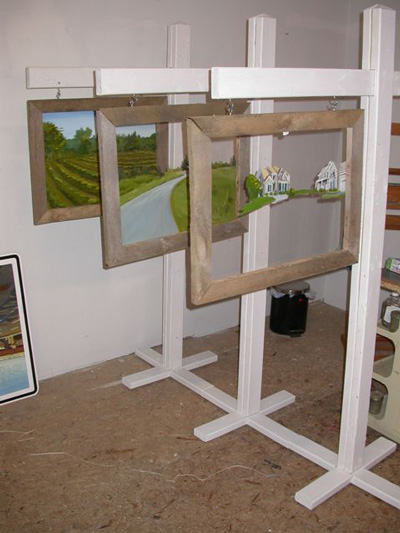 This project takes a look at the decline in small family owned farms, and conversely, the increase in residential developments on plots of land once occupied by such farms. It was originally planned for an exhibition titled 'Lots for Sale.' It is still a work in progress.
The property referenced is a piece land in Andover, MA, once occupied by Abbot Farm, and more recently part of Twin Cedar Farm which was in operation for about 100 years before being sub-divided and sold in the late 1950's. It is currently on the market to be sold to a developer with the intention of building three new homes. This project shows the transition of the property from farm (pre-1950s) to future residential development as of 2012.
The installation includes 3 overlapping panels that hang like real estate signs. Each panel is intended to look as though they are painted on old farm windows, and represent a past, present, and future. The back-most panel (past) shows the plot of land as a farm with crops growing. The middle panel (present) has the plot graded and divided with a road as it looks today. The front-most panel (future) shows how the plot will look with contemporary homes placed on the lots.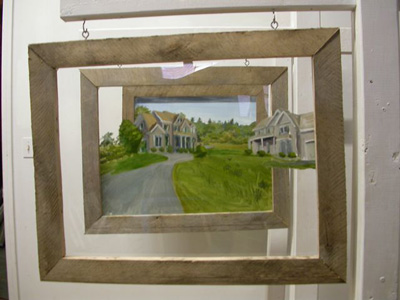 Lots for Sale
oil paint on acrylic glass, wood
close-up view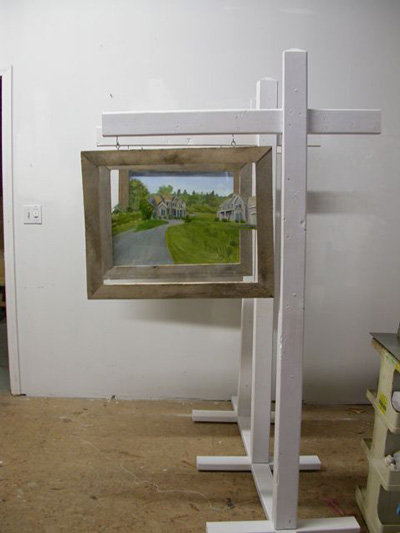 Lots for Sale
oil paint on acrylic glass, wood
studio installation view

Dissection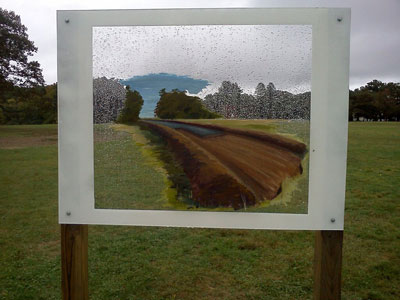 Dissection
oil on clear acrylic glass
48" x 36"
photo credit: Alan Bull
This piece was created for the 2012 Outdoor Sculpture at Maudslay show. The theme for the exhibit was 'Inside Out.' A window of clear acrylic glass with a partial painting of the beginnings of a road construction allows viewers to place the disruption into the existing space. The painted scene shows the cutting into and exposing of the natural landscape, as if the open field is going through a transformation.

Enviro-Transformer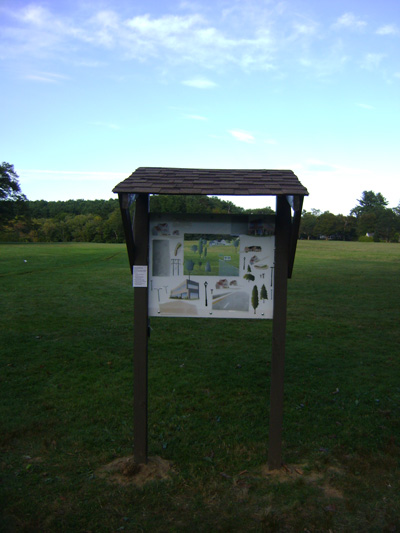 This outdoor installation is an interactive piece that allowed viewers to envision Maudslay State Park in many different forms. It consisted of a series of landscape elements (roads, buildings, houses, etc.) printed onto cling labels that could be arranged and rearranged in many configurations on a piece of acrylic glass inside a kiosk-like structure and allowed the viewer to see how the landscape could be transformed if it were to become a constructed environment.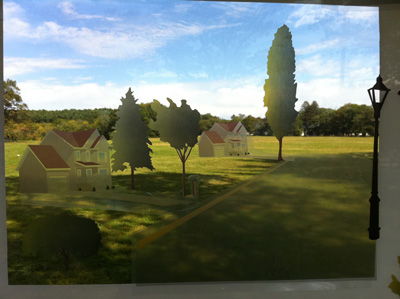 photo credit: Andrew Bjornson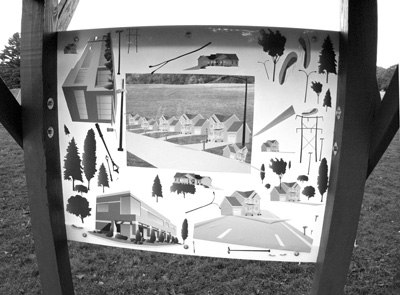 Helen Moseley House - Revisited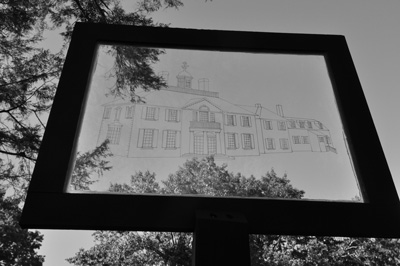 Helen Moseley House - revisited
Marker on acrylic glass
36" x 24"
This work was created for the 2010 Outdoor Sculpture at Maudslay exhibit. The theme was of the show was 'Trace.' The piece consisted of an architectural drawing of the Helen Moseley House on the inside of 2 pieces of acrylic glass, framed and placed on a post positioned where the reference photo was shot. It created a window for viewers to look through, and place the house on its partially visible existing foundation.
The original house was built for Helen by her parents, Frederick and Helen Moseley, between 1939 and 1941. A fire destroyed the house in 1979, a year after Helen's death. The intent of this piece was to revive the house that once stood at this site, from which only a trace of the foundation remains.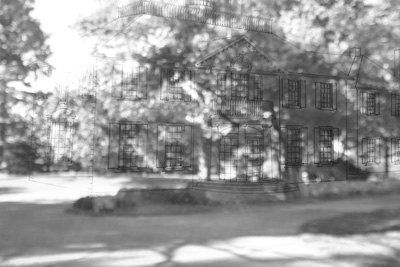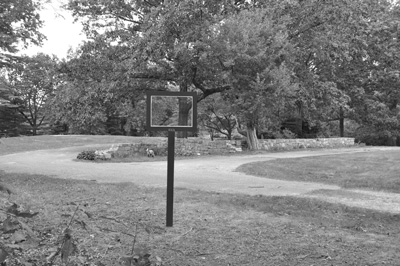 A special thanks to Donna Sudak, D.C.R. Park Interpreter at Maudslay, for all her help with the research that went into this project.

Rt. 495 N., Westford MA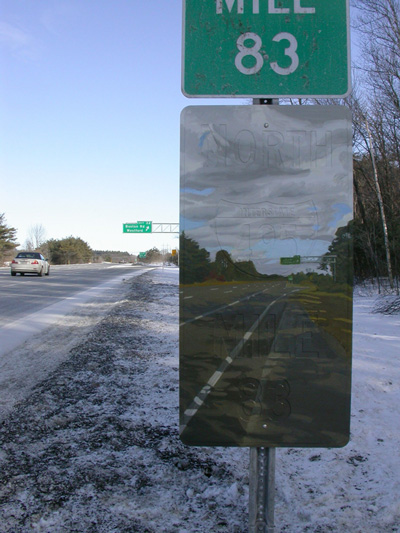 This project uses the small town of Westford, MA, as an example of how the construction of an interstate highway affects a small town. It uses 5 mile markers that make up a 1 mile stretch of the road in the town, and uses each as a representative of an historically significant time in the town's history. Mile 82.8 represents 1955, the year that Eisenhower signed the Interstate Highway Act. Mile 83 represents 1962, the year that the highway was completed in Westford. Mile 83.2 represents 1992, when the residents of Westford fought to prevent Wal-Mart from opening a store there. Mile 83.4 represents 2009, the year this project was completed. Mile 83.6 represents 2062, a projection of the town 100 years after the highway was completed. A video from the project can be seen here.
Westford, MA.
Westford is a small town in northeast Massachusetts, about 26 miles northwest of Boston. It officially became incorporated as a town in 1729. Its main occupations were textile milling, farming, and granite quarrying. Its landscape consists of rolling hills, apple orchards, and ponds left from past glacial activity. By the late 1800s the town started to become a residential suburb for the textile mills in Lowell, 7 miles east. The town has hosted The Nashoba Apple Blossom Festival since 1935. As roads and transportation improved, the town began shifting to a more residential community. The construction of I-495 has accelerated the changing complexion of this town, and its landscape.
Interstate 495
I-495 is an auxiliary highway measuring 120.74 miles in length and is considered the outer circumferential highway in eastern Massachusetts radiating about 30 miles around Boston, terminating in the north at Salisbury MA and in the south at Wareham MA. Construction began around 1957 with some sections not being completed until 1982.
1956
Years to I-495 (Westford section) completion: 6
Population1 : 4,262 (1950)
Average Annual Household Income (US) 2: $4,780 ($31,849 in 2007 dollars)
Average Gasoline Price (per gallon): $.233
President Dwight D. Eisenhower signs the Federal-Aid Highway Act, setting the stage for the construction of the Interstate System. Its main function was to provide mobility of troops for defense in the event of an emergency. It also aided the development of commerce throughout the country and abroad, and allowed more mobility for all Americans, spurring further growth in the suburbs.
The Abbott Worsted Company, a carpet yarn manufacturing company operating in Westford from 1854, closes its Westford location. The company was responsible for the construction of many residences for its workers, forcing residents to seek work elsewhere.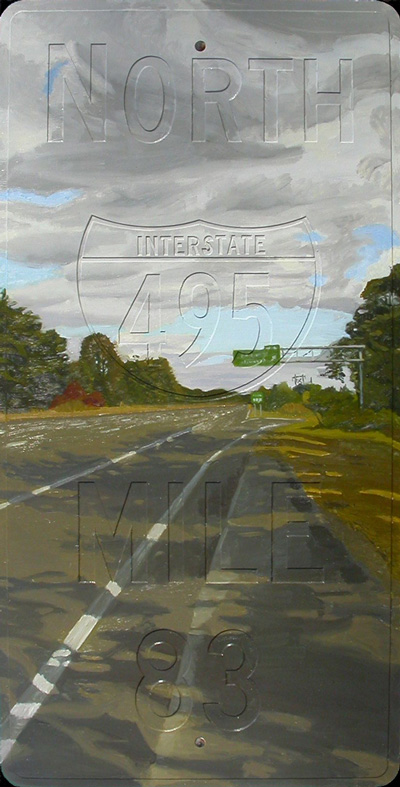 1962
Years to I-495 (Westford section) completion: 0
Population: 6,261 (1960)
Average Annual Household Income (US): $5,956 ($35,771 in 2007 dollars)
Average Gasoline Price (per gallon): $.314
Construction of six-lane section of Interstate 495 is completed, addressing some concerns from town boards for the need for zoning changes and utility enhancements to promote development along the corridor. Ford nears the introduction of trucks powered by propane, an inexpensive fuel that could eliminate the need for almost all emissions controls.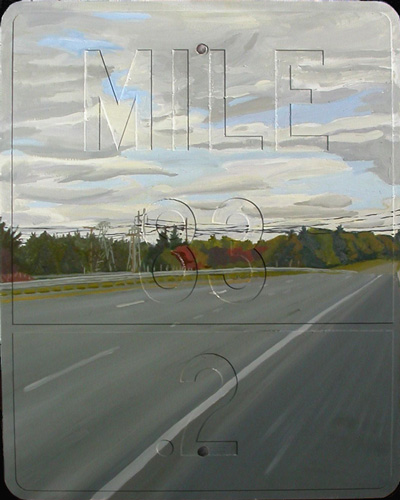 1993
Years from I-495 (Westford section) completion: 31
Population: 16,402 (1990)
Average Annual Household Income (US): $36,959 ($52,223 in 2007 dollars)
Average Gasoline Price (per gallon): $1.115
Residents of Westford successfully reject plans to build a new Wal-Mart store becoming the first town to turn the large company away, arguing against destroying a historic site, increasing traffic on Boston Road, and changing the complexion of the small New England community. Westford faces an uphill battle with other businesses considering the area desirable. Ford builds its first natural gas-powered passenger cars.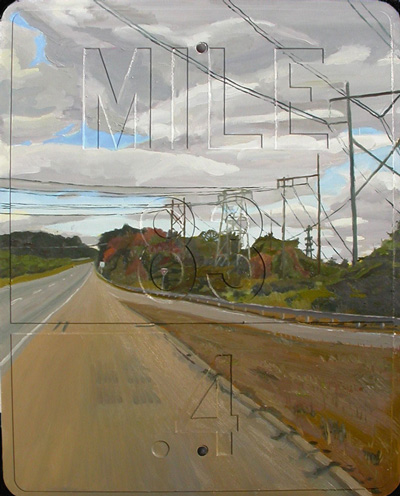 2009
Years from I-495 (Westford section) completion: 47
Population: 21,525 (2000)
Average Annual Household Income (US): $61,335 (2007 most recent data)
Average Gasoline Price (per gallon): $2.686
Farming in Westford is nearly non-existent due to the strong growth in housing developments over the last 47 years. The town has become a 'bedroom community' for commuters working in Boston, nearly completing the shift from industrials and consumer goods to consumer services, with an emphasis on high-technology. Plans for construction of a new automobile dealership are approved, though many residents and Planning Board members voice concerns over further loss of open space. The number of commercial properties —retail stores, office parks, etc. — continues to grow.
Ford's line includes alternative fuel vehicles that range from natural gas-powered vans to flexible-fuel vehicles that run on gasoline and methanol, as well as bi-fuel vehicles that use gasoline or liquefied petroleum gas (LPG).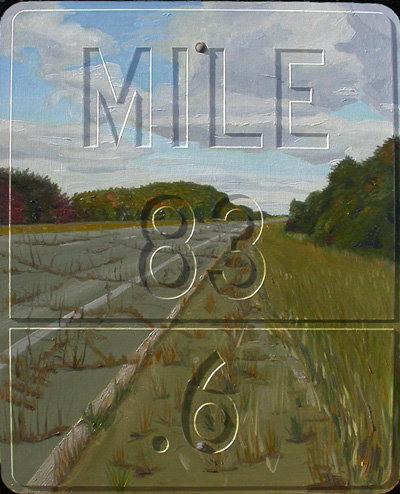 2062
Years from I-495 (Westford section) completion: 100 Population: N/A Average Annual Household Income (US): N/A Average Gasoline Price (per gallon): N/A
Westford's population has diminished. Residents continue to move closer to urban areas. Many of the businesses have either folded, or relocated as well.
It is uncertain whether transportation needs changed due to evolutions in technology, or the availability of resources. Many of the nations highways have fallen into disrepair, and are no longer used. Some experts believe that an inability to find an affordable alternative fuel source forced people back to the cities where they could exist without reliance on the automobile, reducing the need for limited resources and limiting negative impact on the environment. Others speculate that it was technology (telecommunication) that rendered traveling these roads obsolete.
1 Open Space and Recreation Plan 2002, Town of Westford
2 2007 U.S. Census Bureau, http://www.census.gov/hhes/www/income/histinc/f05.html
3 Prices – What Things Cost – 1956, http://www.fiftiesweb.com/pop/prices-1956.htm
4 1960s Flashback-Economy/Prices, http://www.1960sflashback.com/1962/Economy.as
5 1990s Flashback-Economy/Prices, http://www.1990sflashback.com/1993/Economy.asp
6 Joseph A. Giannone, "U.S. Average Gasoline Price Rises to $2.68/Gallon," Reuters India, http://in.reuters.com/article/oilRpt/idINN0820263720091108

Untitled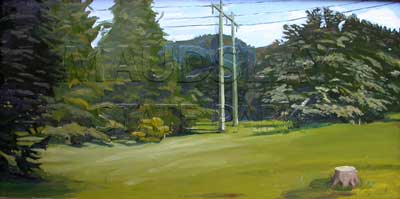 Untitled (view east)
paint, wood, metal
48" x 28"
This was my first entry in the Outdoor Sculpture at Maudslay show, in 2009. The theme for the exhibit was 'Found.' Using the format of the park's entrance sign (signage often confirms location, or orients us), this sculpture/painting calls attention to a path lined with azalea bushes in springtime bloom, and converts the path to a divided road. The scene from the other side of the sign, inserts powerlines to an open field.

Untitled (view west)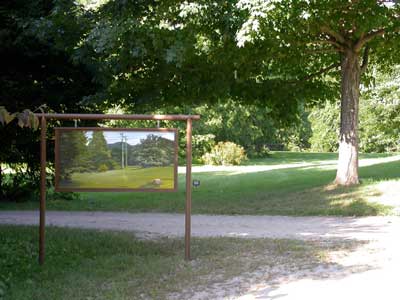 Untitled - installation view east


Untitled - installation view west


Merge - Rt. 213 W., Methuen MA


oil on aluminum and matboard
5 panels, 3 - 34" x 34", 2 - 51" x 51"
This project is a panoramic series of site-specific paintings that includes a plan for presentation as a gallery installation as well. The panorama is carried out through five overlapping diamond shape signs that should be positioned with spatial depth. Three panels in the front plane are slightly smaller than the two in the back layer. This allowed for each individual panel to be photographed in the originating space from slightly different perspectives, giving more information about the whole of the space. The final installation included the five panels on poles creating the entire panorama, six photos of the individual panels in situ, and a vinyl 'stop' line on the floor to indicate the optimal view-point from which to experience the panorama.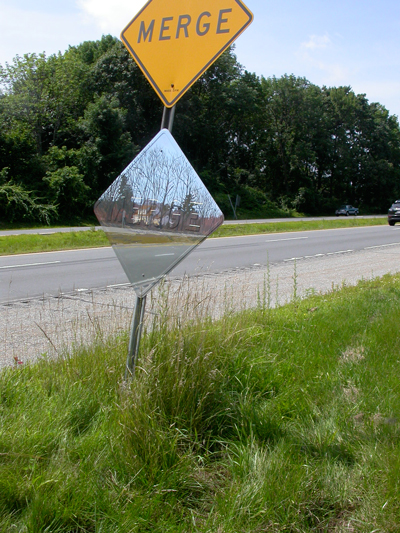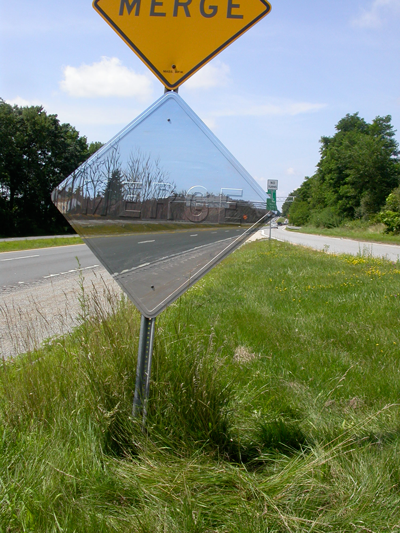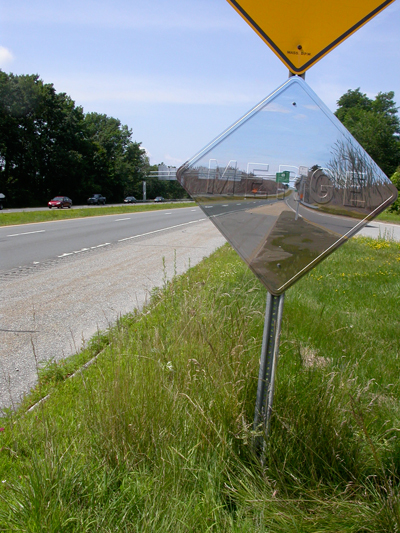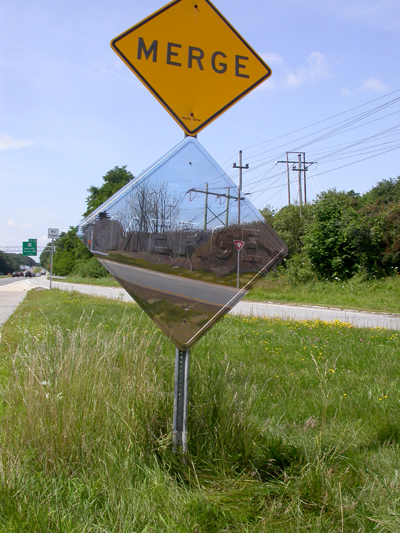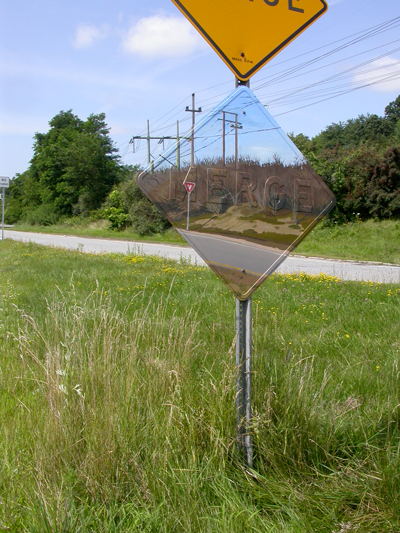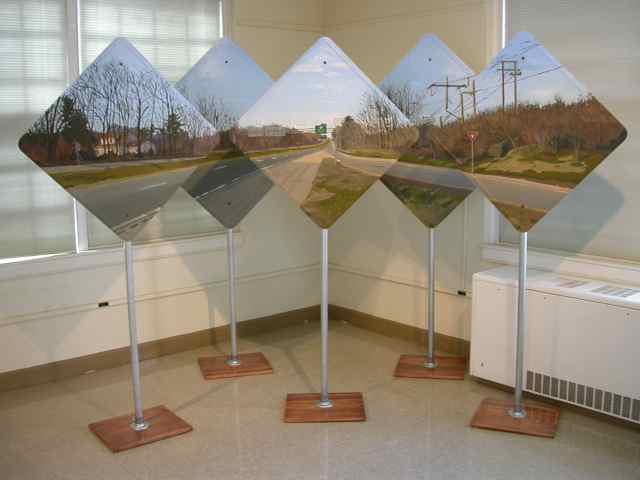 gallery installation - panorama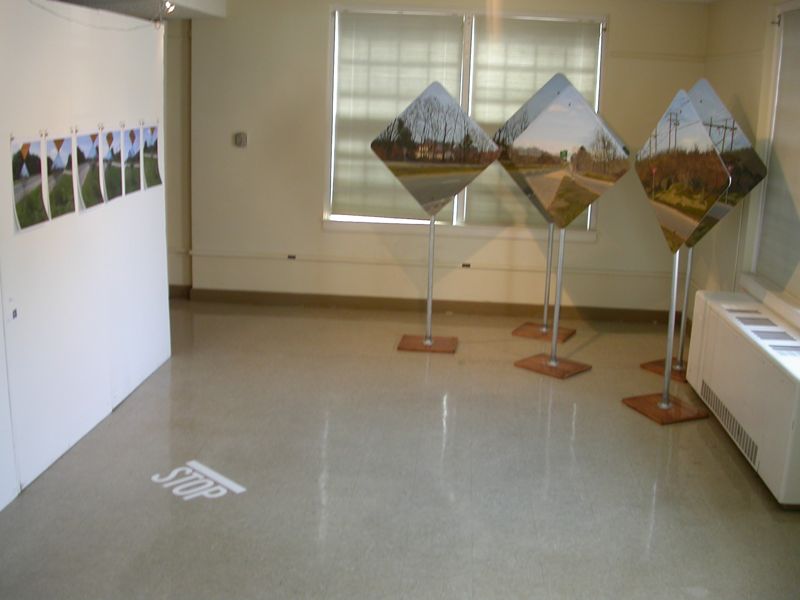 gallery installation

Yield - 93 N., Andover MA


oil on aluminum and matboard
4 - 36" triangular panels
This piece is an extension from earlier paintings that used individual traffic signs. For this project I wanted to experiment with ways of working with more perspectives on the space. The use of four yield signs allowed me to do this. Each panel was photographed in the space from a different point of view, and all four panels were exhibited together to show the panoramic view of the space.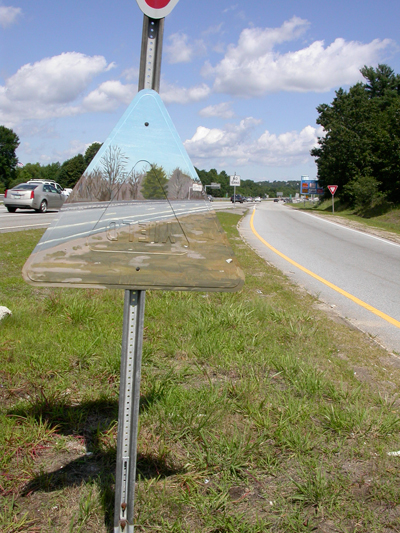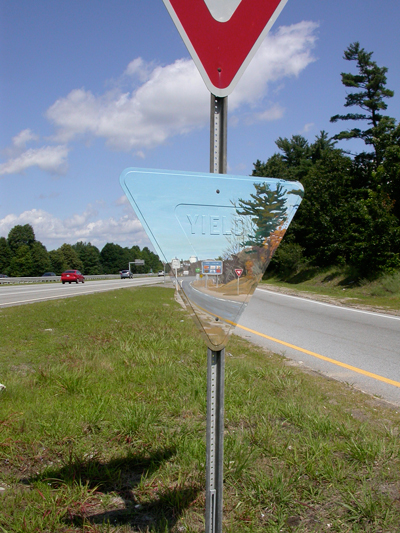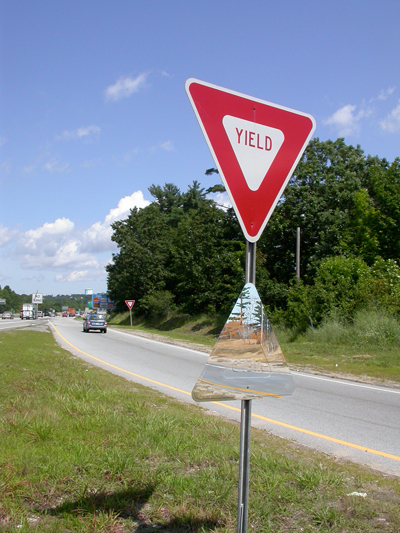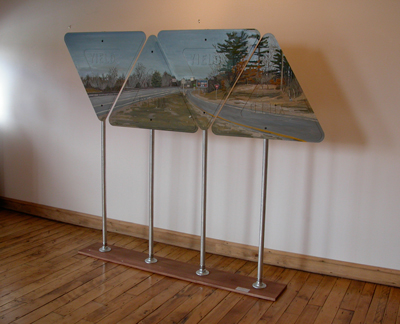 Gallery presentation on base with poles